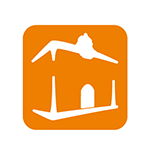 A lot of people are surprised to find such a great project in a small town like Valoria but it all started with the vineyard.
My father, Antonio, an entrepreneur with boundless energy, decided to revive the family's winemaking business and, at the end of the 1980s, planted the first few hectares. Later on, towards the end of the 90s, we built the winery and started making our first wines. Then came the Hospedería, a wine tourism project that completes a long and fond relationship between the family and the house.
Enrique Concejo

Hospedería
Concejo Hospedería is a Posada Real or Royal Inn, classed as a 4-star hotel. It has 14 rooms, all different, several historical salons for meetings, and we specialise in gastronomic tourism and event organisation.

Restaurant
Our "4-fork" restaurant is devoted to locally-sourced food with produce coming mainly from the Castile & León region.

Winery
Our winery is a pioneer in producing sweet, cask-fermented rosés. We were the first to believe in organic wine and, of course, are firmly committed to wine tourism.
RESTORATION
Our great-uncle Enrique, a soldier by profession, is the reason we dreamed, as children, that our family home, which had once been a castle and a palace and whose origins dated back to the 10th century, could become something unique.

Thirty years on, with a restoration that finally became an epic achievement in April 2010, Concejo Hospedería and the restaurant El Sueño del General finally opened their doors.
A TEAM COMMITTED TO QUALITY
Olga and Enrique, the heart of the project, have invested their passion to preserve the essence of the building and provide it with a soul.
 Jorge, friendliness, creativity and talent combined to ensure unique moments savouring his cuisine.
Our aim is to offer the unique produce from our region to our visitors, attempting to include locally-sourced foods and, above all, maintain a close relationship with our suppliers who help us discover new flavours and textures we can bring to the table.